European Finest Hotels Award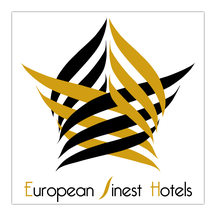 European Finest Hotels is the first and only platform incorporating a fine selection of the best hotels in Europe. This list has been drawn up by an independent body and refined for nearly two years on the basis of consultations, site visits, information gathered from travellers, tourist offices and embassies in Europe.
Hotels selected by European Finest Hotels meet over 80 criteria of excellence combining the services and facilities of the hotel such as restaurants, spas, swimming pools, but also room facilities (wifi , Smart TV, anti-allergenic pillows, welcome basket, ...). We also take into account external factors such as the location of the hotel, its environment, its gardens, exterior views and proximity of exceptional locations.
This site features hotels which through their unique qualities and services play an important role in attracting tourists to their city or region. They are a destination in their own right and the promise of a successful stay.
European Finest Hotels:
European Finest Hotels is an independent organisation developed by European Consumers Choice, a non-profit making European organisation created to promote innovation and reward European production companies and designers.
From Audi to Groehe through Husqvarna, Dyson, Compex and the greatest designers in Europe, European Consumers Choice has acquired invaluable expertise in the awarding of excellence. This organisation has also been promoting tourism in Europe through its "Best European Destinations" Award.
Two years ago, our Board of Directors decided to go even further in promoting Europe as a destination of excellence by rewarding private actors who through their services and the quality of their establishment are real agents of promotion for Europe. Such exceptional hotels are very often a destination in their own right and therefore important vectors for high quality tourism.
Promoting tourism:
Every year an average of 476.5 million people choose to travel in Europe for the richness and diversity of its landscapes, its culture and history, and the quality of the tourism offer. Europe is in this respect the first destination in the world and all public stakeholders (such as tourism offices, conventions, museums) and private stakeholders (such as hotels, restaurants, and spas) are the driving force behind this leadership.
In 2012, the EU-27 has more than 230.000 independent and chain hotels offering a variety of levels of services. "European Finest Hotels" is the first exclusive collection of exceptional hotels in Europe to comprise both types of hotel.
For over two years now, our organisation has been selecting the best hotel establishments across 27 countries of the European Union, in partnership with tourist offices, embassies, and also on the basis of travellers' reviews and visits.
"Our goal is to promote the outstanding private actors involved in the promotion and development of tourism in their city and region. Through this action, together we promote Europe in all its richness, diversity and the quality of its tourism".