OLISSIPPO LAPA PALACE HOTEL ♦ LISBON
Nestling in beautiful gardens on the most prestigious of Lisbon's seven hills is a stately 19th century palace that houses the gracious 5 star Olissippo Lapa Palace hotel. The legendary quality and service of this hotel speak of a bygone era, while its comprehensive restoration has updated it to satisfy even the most demanding contemporary guest.
Enjoy the refreshing outdoor swimming pool or the comfort of a sun-lounger in the lavish sub tropical gardens. The spa is another treat, with a heated indoor swimming pool, sauna, Turkish bath, fully equipped gym and some of the finest spa treatments available.
Lapa Palace has been placed among the best hotels in the world; this is not solely due to its prestigious location, or the splendour of its grounds, the luxury of the accommodation or its excellent facilities, the unrelenting attention to detail or superlative service. At the Lapa Palace all of these factors combine harmoniously for an unforgettable stay.
FOOD & DRINK
♦ 24 hours room service
♦ 1 Restaurant
♦ 1 Bar
♦ Continental breakfast
♦ International cuisine
♦ Outside bar
IN-ROOM AMENITIES
♦ Individually controlled air-conditionning
♦ Flat screen
♦ Free Wifi
♦ Phone
♦ Hair dryer
♦ In room safe
♦ Fridge / Minibar 
♦ Coffee / Tea making facilities
♦ Welcome fruit basket
RECREATIONAL FACILITIES
♦ Spa
♦ Indoor pool
♦ Outdoor pool
♦ Children's pool
♦ Fitness room 
♦ Sauna
♦ Garden
♦ Souvenirs / gift shop
OTHER FACILITIES
♦ 24 hour front desk
♦ Parking
♦ Porter / Bellman
♦ Lounge
♦ Housekeeping
♦ Babysitting services
♦ Meeting rooms / Meeting & catering facilities
♦ Free Wifi
♦ Business Centre / Printer
♦ Courier service
♦ Car rental services
♦ Safety deposit box
♦ Room / facilities for people with disabilities
♦ Complimentary shoe shine
♦ Laundry / Dry cleaning
♦ Excursions & sightseeing
♦ Restaurant reservations
♦ Pets allowed up to 5Kg max)
Royal Suite Conde de Valenças
Located in the original Palace on the 05th floor. 19th century style decoration with large separate living room and beautiful terrace overlooking garden, river and city. King bed and separate closet space. Can be converted into a two or three bedroom suite. Large marble bathrooms with double sink, Jacuzzi and separate shower. Approximately 145Sqm / 1560Sqf.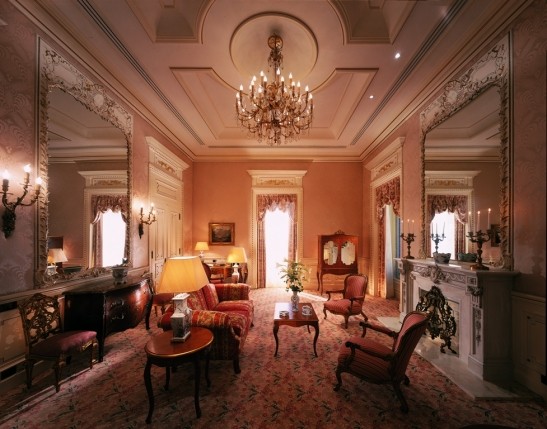 Panoramic view made by European Finest Hotels
Lisbon, Portugal
Situated at the heart of Lisbon, close to the city's best shopping centers, the hotel is located on a very prestigious area; embassies and consulates from all over the world are to be found here.
The hotel is only 20-30 minutes away from the airport and 5 minutes from the live and buzzing docks area.